Keep in mind: word-of-mouth is king when it comes to making a purchasing decision. Products with reviews are 270% more likely to be bought than a product without, according to Spiegel Digital & Database Research Center (2017). For a higher priced product, this likelihood increases to 380%.

How Do You Get Reviews?
Ask close friends and family members to review your product or service and compose a few sentences explaining what they like regarding it as well as why they would recommend it to others. This might appear like cheating, however nobody knows you're familiarized with your review authors, and besides, if they appreciate what you sell, there is nothing dishonest regarding it.

If you work or have worked in a field connecting to your topic, ask your coworkers (or previous coworkers) to endorse you.

Ask current customers what they like best about your product or service, as soon as the job is finished.

Offer a complimentary trial to somebody with a complete expertise of your area, well fit to judge exactly how your item works, and ask to write up a review.
Where To Use Reviews
The words of a completely satisfied customer are effective tools for building trust, promoting your reputation, and increasing sales and success!
One of the common ways to benefit from reviews is building the consumer trust by displaying on your website your customers' experience with your company. Include selected reviews at key pages, like your homepage and other high traffic pages - i.e.: product, pricing, checkout, or thank you landing pages.
On e-commerce websites, displaying reviews during the checkout process gives consumers the encouragement they need to complete a purchase.
Real Example
At Budo Creative we provide our clients one of the best ways of getting reviews on your website. See this example at
Somerville Auto Center's website
- As soon as you land at the home page, you see a popup banner showing recent customer's reviews.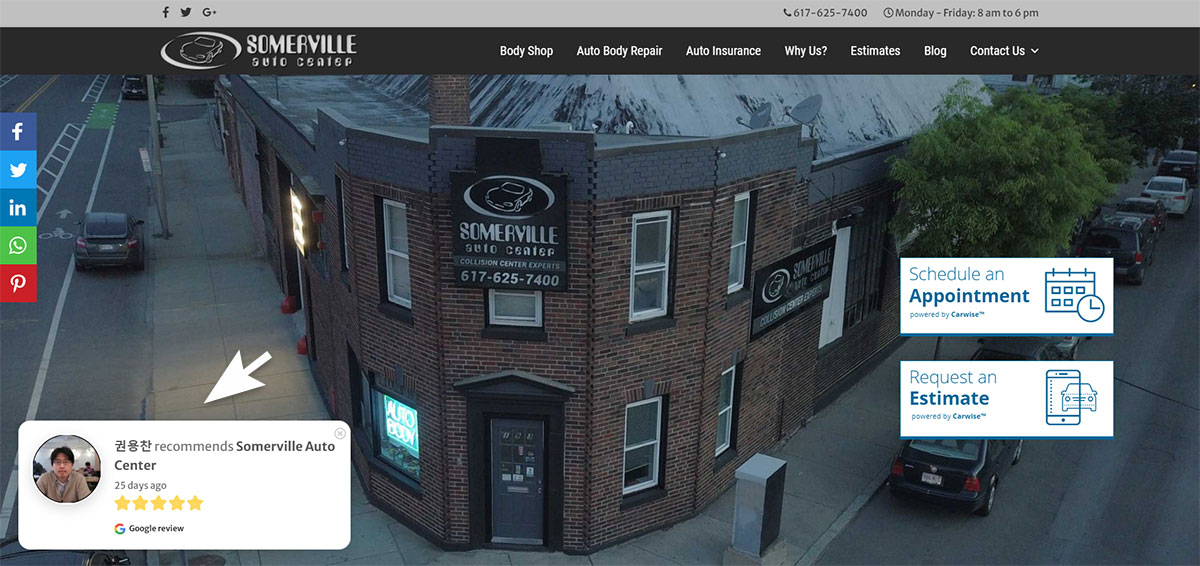 Then, at the
Why Us page
, there is a carousel highlighting selected reviews from various sources such as Facebook and Google.
At the bottom, there is a button where you can add a review. When you click it, a nice form opens immediately, and you can also synchronize one of your social accounts to make the process even easier.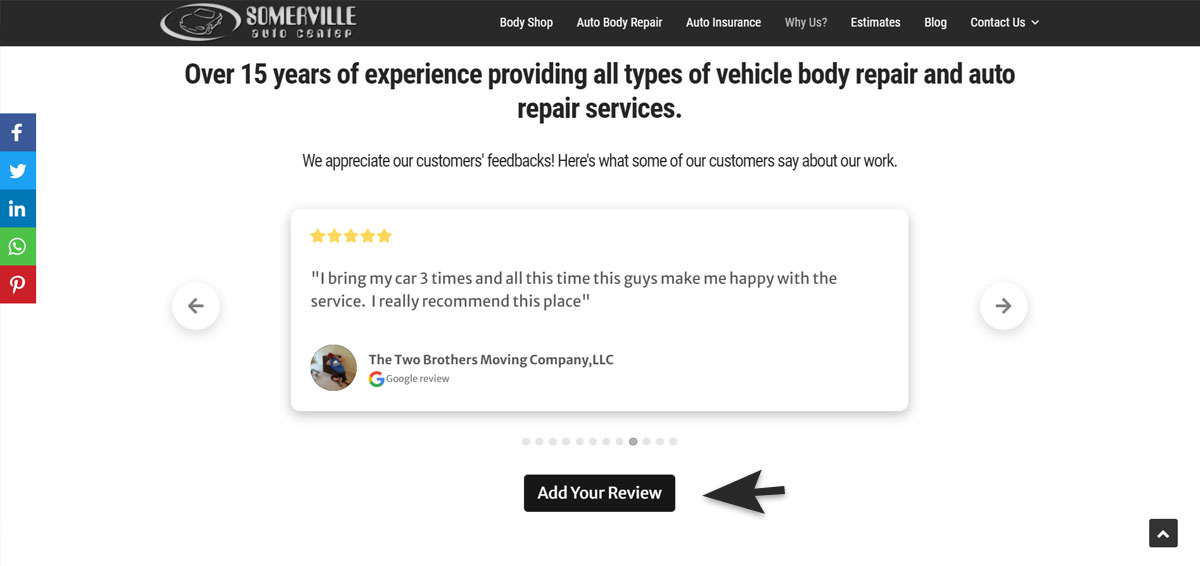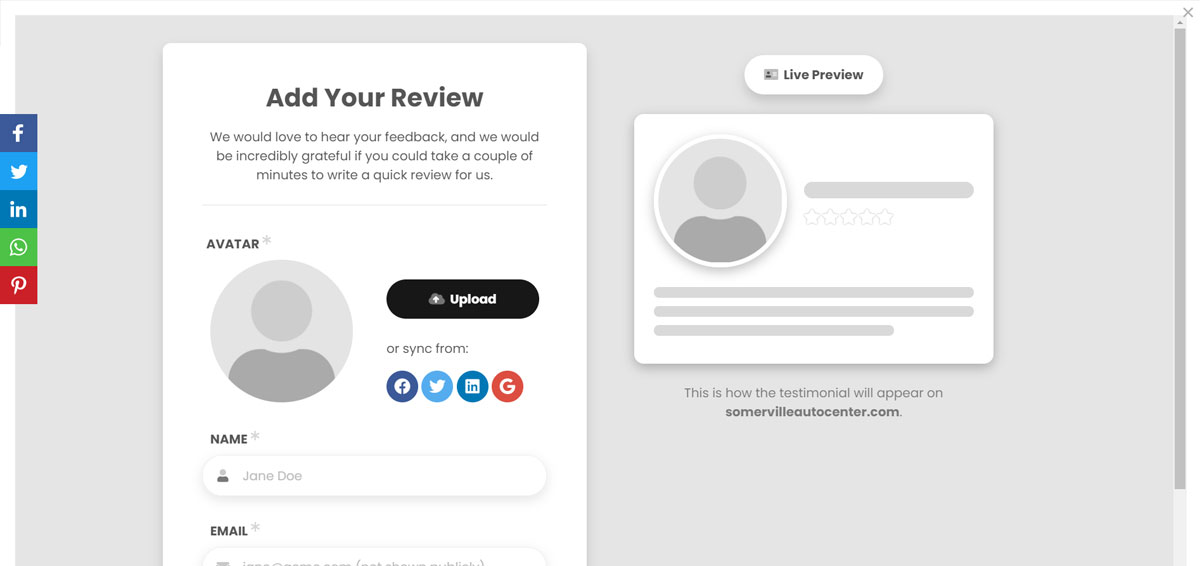 After submitting your review, customers can replicate it to Google, Facebook, and Yelp without needing to write the review again.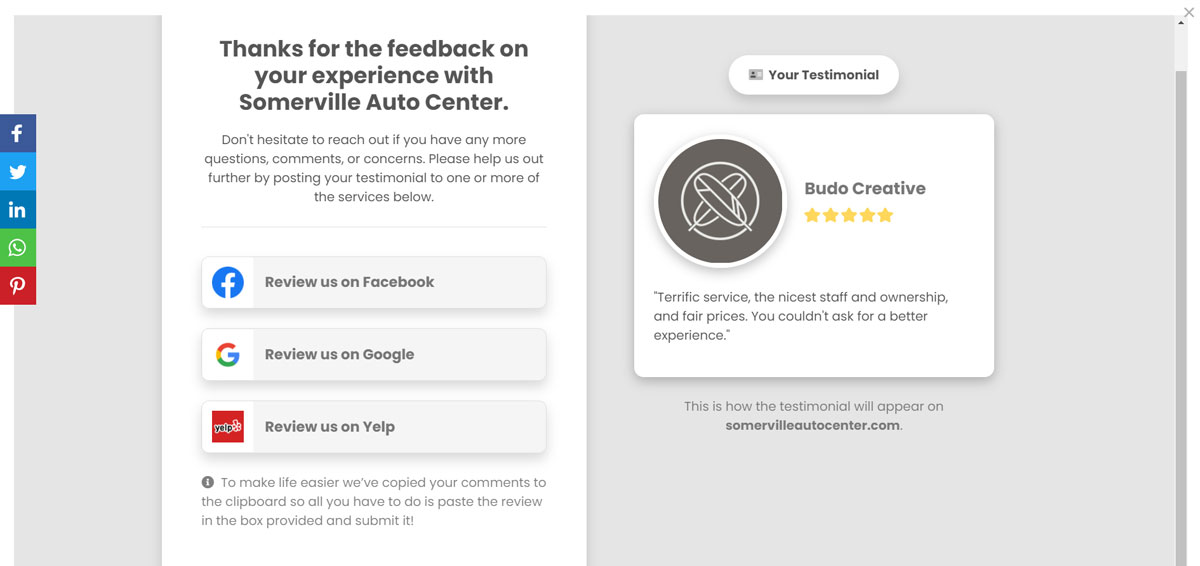 It could not be easier, right?