Why Reviews Are Essential For Business?
You've heard of the importance of getting reviews for your business. But why? And how do you go about it? In this blog post, we'll look at the importance of getting reviews for your business and tell you how to go about it.

Changing consumer spending habits because of the coronavirus pandemic contributed to the spike in e-commerce sales last year. In 2020 consumers spent 44% more than 2019 with online purchases with U.S. retailers. In other words, there was an additional $174.87 billion in e-commerce revenue. Without COVID-19, the $861.12 billion in e-commerce sales wouldn't have been reached until 2022.

The growth in the e-commerce sector has raised the importance of online reviews to even greater levels, and customers' voices have become increasingly authoritative. Think about this: 95% of shoppers read the reviews posted on business review sites such as Yelp, Google, Facebook, and TripAdvisor before making a purchase, and 86% consider reviews as an essential resource when making purchase decisions, according to PowerReviews. Also, 94% of consumers refuse to patronize a business because of negative reviews. These numbers cannot be ignored and underestimated.

If you haven't started working on it yet, roll up your sleeves and prepare for arduous work, especially if you own a physical store. According to a consumer behavior study, if vaccinated, most consumers would be interested in returning to daily outings.
67% would run errands
63% would get together with family and friends
63% would enjoy outdoor activities
57% would shop for non-essentials
53% would go to a hair or nail salon or spa
Keep in mind: word-of-mouth is king when it comes to making a purchasing decision. Products with reviews are 270% more likely to be bought than a product without, according to Spiegel Digital & Database Research Center (2017). For a higher priced product, this likelihood increases to 380%.

How Do You Get Reviews?
Ask close friends and family members to review your product or service and compose a few sentences explaining what they like regarding it as well as why they would recommend it to others. This might appear like cheating, however nobody knows you're familiarized with your review authors, and besides, if they appreciate what you sell, there is nothing dishonest regarding it.

If you work or have worked in a field connecting to your topic, ask your coworkers (or previous coworkers) to endorse you.

Ask current customers what they like best about your product or service, as soon as the job is finished.

Offer a complimentary trial to somebody with a complete expertise of your area, well fit to judge exactly how your item works, and ask to write up a review.
Where To Use Reviews
The words of a completely satisfied customer are effective tools for building trust, promoting your reputation, and increasing sales and success!
One of the common ways to benefit from reviews is building the consumer trust by displaying on your website your customers' experience with your company. Include selected reviews at key pages, like your homepage and other high traffic pages - i.e.: product, pricing, checkout, or thank you landing pages.
On e-commerce websites, displaying reviews during the checkout process gives consumers the encouragement they need to complete a purchase.
Real Example
At Budo Creative we provide our clients one of the best ways of getting reviews on your website. See this example at
Somerville Auto Center's website
- As soon as you land at the home page, you see a popup banner showing recent customer's reviews.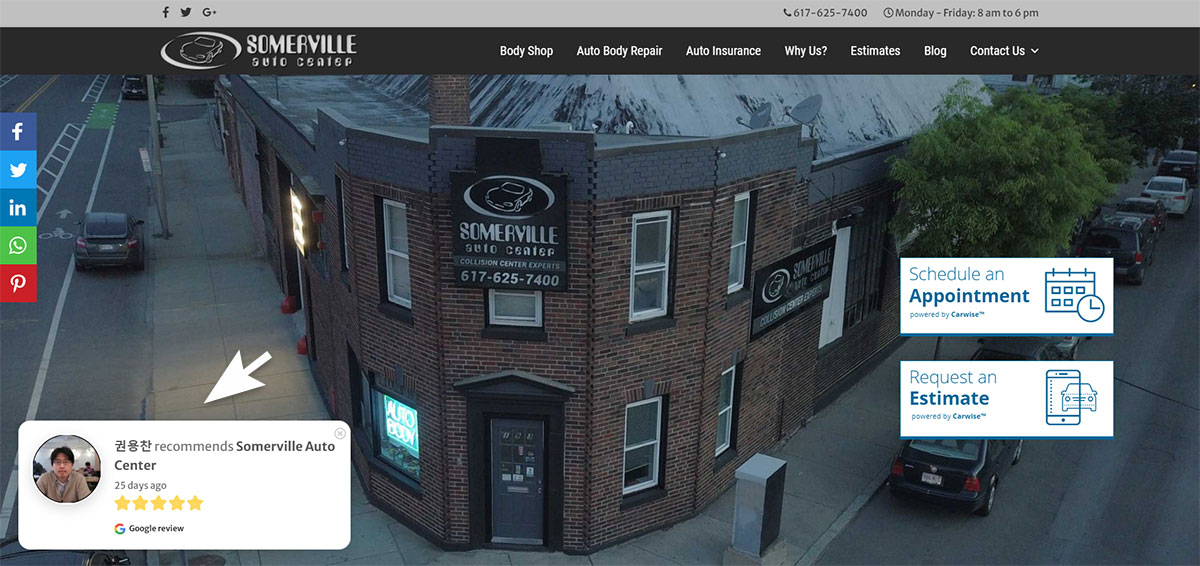 Then, at the
Why Us page
, there is a carousel highlighting selected reviews from various sources such as Facebook and Google.
At the bottom, there is a button where you can add a review. When you click it, a nice form opens immediately, and you can also synchronize one of your social accounts to make the process even easier.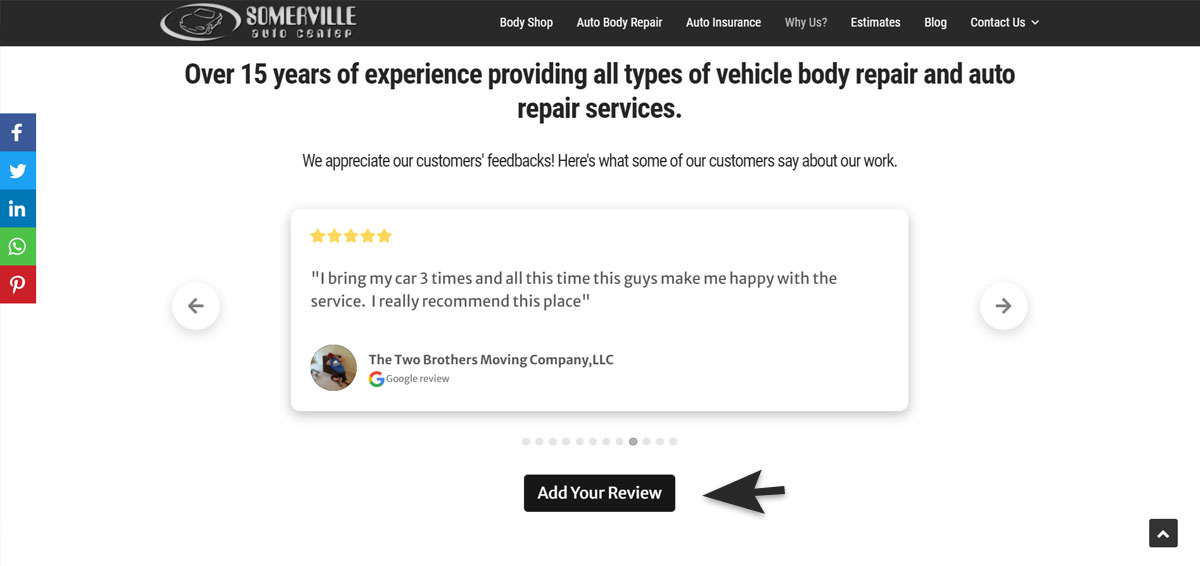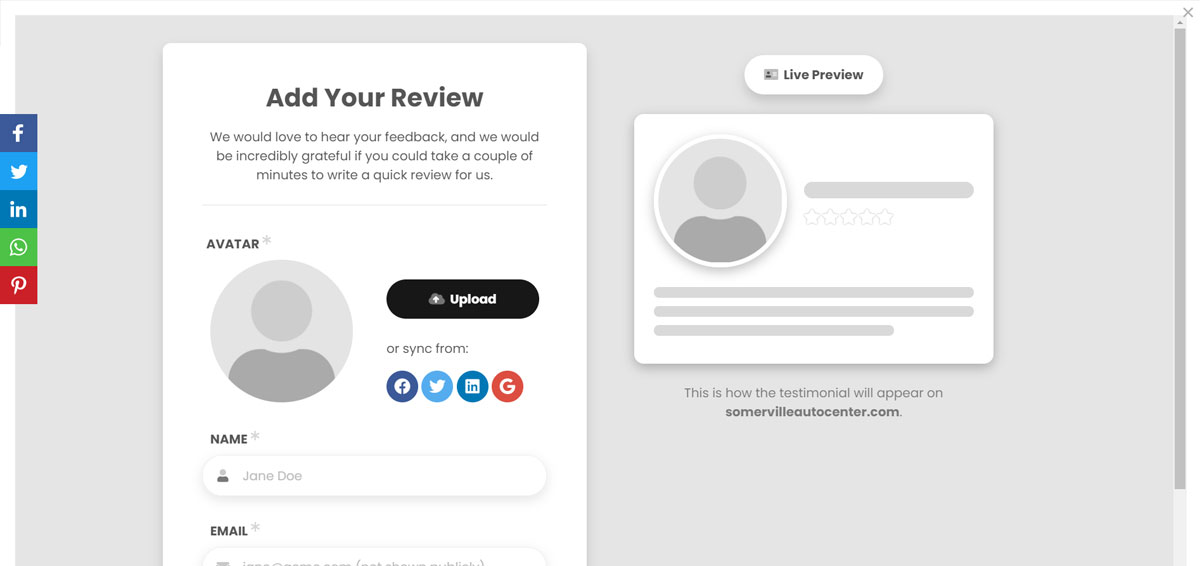 After submitting your review, customers can replicate it to Google, Facebook, and Yelp without needing to write the review again.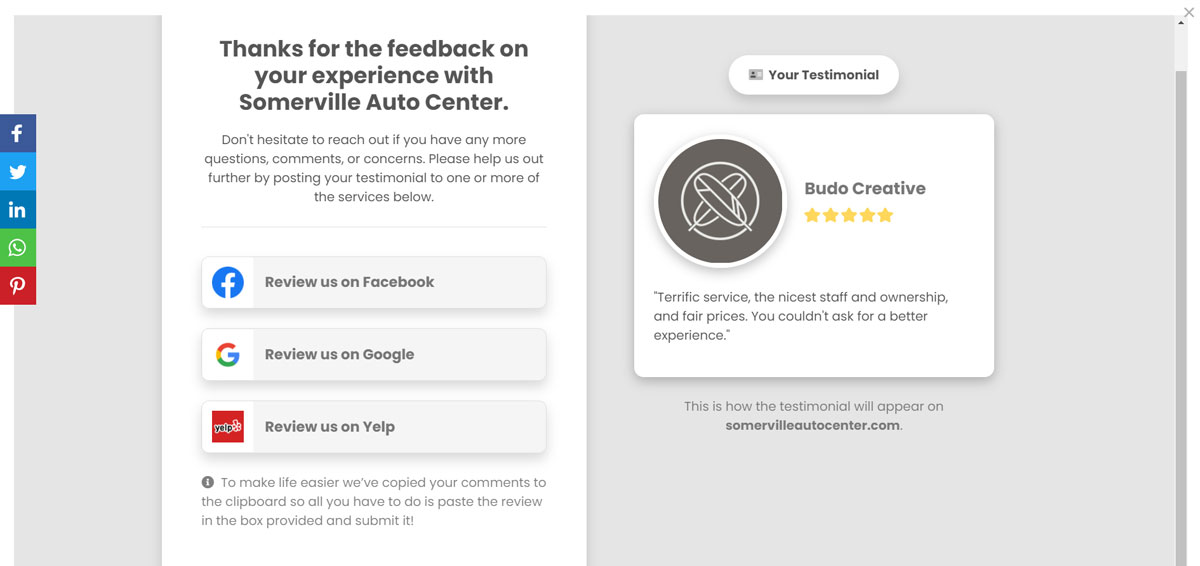 It could not be easier, right?
Did you find it helpful? Could you share it with your friends?
Join Our Newsletter
Sign up to receive our weekly newsletter delivered directly to your inbox.
No spam, ever. Your address will only be used for the company news. You can easily unsubscribe at any time with a single click.